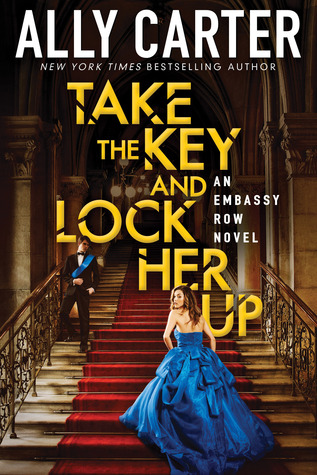 TITLE: Take the Key and Lock Her Up
Book 3 in the Embassy Row Trilogy
AUTHOR: Ally Carter
PUBLISHED: December 2016
CATEGORY: YA
GENRE: Adventure
PREMISE: Grace goes on the run after learning a shocking secret about her family's history.
MY REVIEW: Embassy Row has definitely been a wild ride of a series. This last book, was no exception. If you're familiar with Ally Carter's books, you probably already know what to expect from this series. It has lots of action, some romance, teenagers getting shit done, and some surprise twists.
I will say, I kind of with the Embassy Row series was a bit longer. I sort of felt like this one wanted to be four books instead of three. I felt like there were two books in this last one that had to get squished together because that was all the contract was for or something. As result the plot goes like it's one of those hundred meter dash races at the Olympics. I was getting whiplash from all the plot developments.
Ultimately, this did end in a satisfying way that mostly made sense. I just wish we'd maybe have had some more time to process things. All in all though, this was a successful trilogy. I don't love it as much as Gallagher Girls. but it is on par with Heist Society quality wise. In other words: it's adventurous fun as I've come to expect from Carter.
WHO SHOULD READ: Ally Carter fans, those that have read the first two Embassy Row books
MY RATING: Four out of Five high-speed plot paces