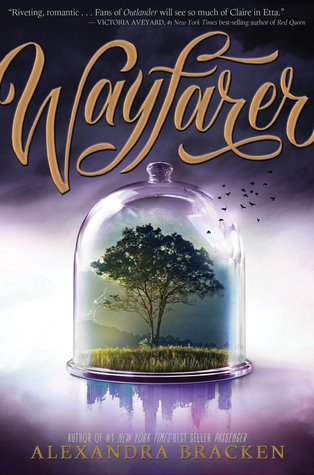 TITLE: Wayfarer
Book 2 in the Passengers Duology
AUTHOR: Alexandra Bracken
PUBLISHED: January 3rd, 2017
CATEGORY: YA
GENRE: Fantasy, Time Travel
PREMISE: Etta and Nicholas are now separated and struggling to get back to each other as they try and find a way to protect time from the two groups that would do it harm.
MY REVIEW: An unforseen issue that can pop up when you read as much as I do is you sometimes struggle to remember plots and have to make sure you're not mixing up the plot of this series with the plot of another series. Now, I might not have remembered everyone's name from this series (I'm bad with names, that's not a reflection on Bracken at all), but I am surprised at how much I actually did remember the plot of this. Especially as I read it fairly early last year.
To me, that says Bracken wrote a memorable book. I don't love this as much as I do with Darkest Minds, but it is a very interesting series. It's also very very very fast paced. It's long (over five hundred pages) but those five hundred pages go by fast.
The ending is pretty satisfying, it answers questions left over from the first book. Sophia is a treasure, I want an entire book about her. All in all, this was a good and satisfying ending. Bracken has a new series possibly starting in September (MG from the looks of it) and I have to say, it looks pretty awesome.
WHO SHOULD READ: fans of Passengers, time travel fans, Firebird Trilogy fans
MY RATING: Four out of Five time travelers