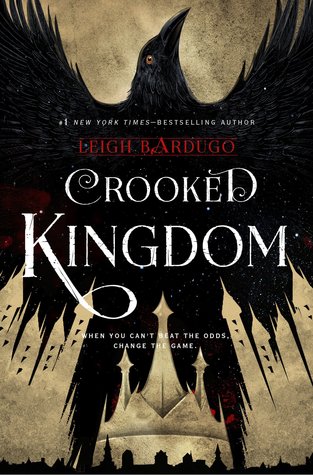 TITLE: Crooked Kingdom
Book 2 in the Six of Crows Duology
AUTHOR: Leigh Bardugo
PUBLISHED: October 2016
CATEGORY: YA
GENRE: Fantasy
PREMISE: The crew is back and dealing with the fallout of their heist.
MY REVIEW: It's funny, I'm pretty apathetic when it comes to the Grisha Trilogy. I like it well enough. It was a decent trilogy. But I'm not as wild about it as I've seen some people get. But Six of Crows? I love this duology. I think the characters are ten times more interesting, the pace is better, and the plot is more interesting.
This second book continues where the first one left off. The author doesn't waste our time recapping and just jumps right into the story. There's character development. There are also quite a few surprises at the end about how things went down. For once, I didn't even have a problem with any of the romances. That's rare in a YA nowadays.
This is a solid duology and I loved it. Judging from the ending, we might be getting another series set in this world and honestly? I don't mind it if we do. There doesn't seem to be any set plans yet. Her next book looks to be an interesting looking series about secret societies. There's no release date yet, which makes me sad because it sounds really awesome.
WHO SHOULD READ: Grisha trilogy fans, fantasy fans, oceans eleven fans
MY RATING: Four and a half out of Five heists
RATING FOR DUOLOGY: Four and a half out of Five