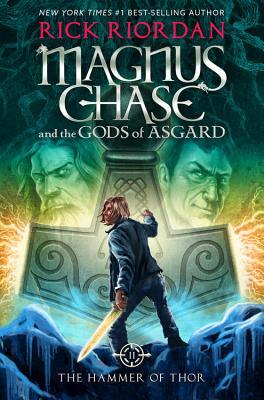 TITLE: The Hammer of Thor
Book 2 in the Magnus Chase series
AUTHOR: Rick Riordan
PUBLISHED: October 2016
CATEGORY: Middle-Grade/YA
GENRE: Fantasy
PREMISE: Magnus has to search for Thor's hammer, which has been lost. Again.
MY REVIEW: The first book I finished for the year 2017 is a book I fully expected to like and did. Rick Riordan never disappoints. Even his average books such as the Kane Chronicles are damn entertaining. The latest Magnus Chase book is no exception.
One of the things I really loved about this book was Alex. We have an actual gender-fluid character in a major mainstream series. Like...that's pretty huge when you think about it. It shouldn't be huge. But it is and as far as I can tell, Riordan pulled off the representation well. Plus, Alex was just an awesome character.
If you loved the first Magnus Chase book and are just a Riordan fan in general, this latest installment will not disappoint you.
WHO SHOULD READ: Fans of the first book, Percy Jackson fans
MY RATING: Four out of Five lost magical objects