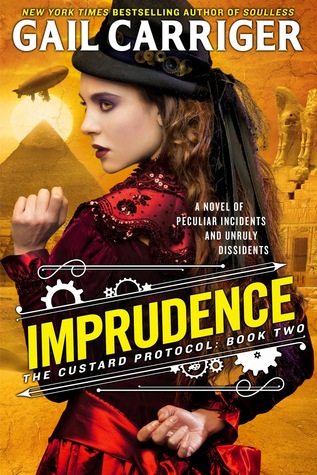 TITLE: Imprudence
Book 2 in the Custard Protocol series
AUTHOR: Gail Carriger
PUBLISHED: July 2016
CATEGORY: Adult
GENRE: Historical Fantasy/Steampunk
PREMISE: The adventures of Rue continue as she returns home to find things have become chaotic in England since she left.
MY REVIEW: You guys know I love Gail Carriger. So it is probably no surprise to any of you that I loved this book. What more can I say that I haven't already said? Her books are just delightful.
As always we go full steam ahead into the plot in this one. Alexia and co. play bigger parts so that was fun to see. We get to see relationships develop and there's the usual Carriger brand of humor in it.
These books never fail to put me in a good mood when I read them. If you are a long time Carriger fan, the latest book will not disappoint. Sadly, it looks like we might have to wait a bit for the next book, but hey, she has a novella out sometime this year so it's not all bad.
WHO SHOULD READ: Gail Carriger fans, those that have read the Parasol Protectorate and the first Custard Protocol book
MY RATING: Four out of Five tricked out parasols