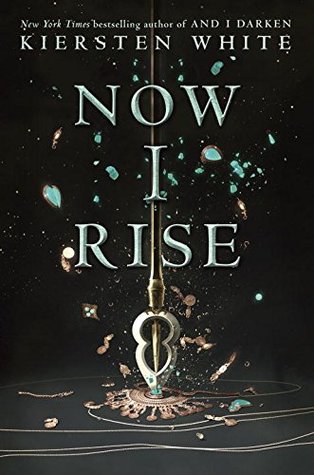 TITLE: Now I Rise
Book 2 in the Conqueror's Saga series
AUTHOR: Kiersten White
CATEGORY: YA
PUBLISHED: June 27th, 2017
GENRE: Historical Fiction
PREMISE: Lada continues her quest for her homeland while Radu deals with a mission he was given...
MY REVIEW: And I Darken was a favorite of mine from last year and I have been looking forward to this sequel for some time. I am happy to say it did not disappoint. Normally, I am not a fan of dual perspectives. It's usually a gimmick and not necessary and frankly a lot of authors don't use the technique well. This is one of the few times, it is actually used well.
Lada and Radu are so different that I have no issue figuring out who's speaking (this is usually a big issue with dual perspective). I love these characters. They are complicated and messy and are just so interesting. Thanks to the dual perspective, we get two sides of the war the characters are in and it's so well done. I admit, I don't know much about the history that White is talking about here, but she explains it so well that I got the gist.
To sum it up: I loved this book. It's definitely one of the top books of the year for me. If you loved And I Darken, you'll love this. I cannot wait to read the next book. I am also fearful, because I have a feeling it's going to be a tissue box kind of book (especially if White sticks to history. I don't know much about this time period, but I do know Vlad dies).
WHO SHOULD READ: And I Darken fans, Game of Thrones fans, historical fiction fans
MY RATING: Four and a half out of Five fangirl squees