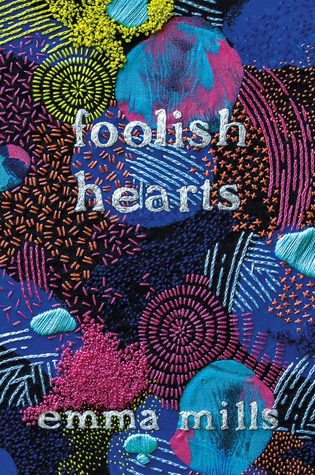 TITLE: Foolish Hearts
AUTHOR: Emma Mills
CATEGORY: YA
PUBLISHED: December 2017
GENRE: Contemporary, Romance
PREMISE: A girl's quiet life is turned upside down after she accidentally overhears the breakup of the school's most popular couple and is thrown into a production of the school's play.
MY REVIEW: This book took me completely by surprise and I love it when books do that. It came in my OwlCrate and I honestly wasn't expecting much from it. But I wound up loving the hell out of it.
So many things about this made me happy: it's diverse, the popular couple that breaks up is actually two girls and no one in the school cares. It takes place at an all girls school and there's no catty "girls can't be friends" nonsense. The male love interest is not a douchebag! I actually wanted her and the guy to get together. That's always a nice change. There's great female friendship and it just rings so many bells for me.
This actually kind of gave me a lot of Becky Albertalli vibes. If you are pining for Leah on the Offbeat to come out like I am, this might be a good book to pick up in the meantime. It's not a groundbreaking book by any means. But it is just a nice breezy contemporary romance with fun characters that give you a good time. I will definitely be checking out more of Emma Mills stuff in the future.
WHO SHOULD READ: Emma Mills fans, Becky Albertalli fans, those that want cute contemporaries
MY RATING: Four and a half out of Five enjoyable as hell books