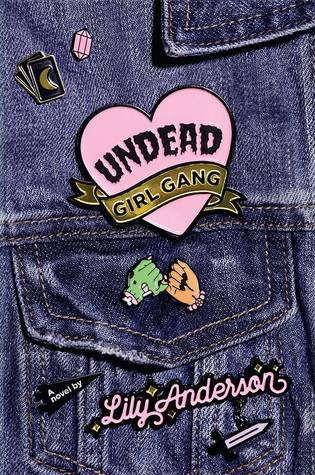 TITLE: Undead Girl Gang
AUTHOR: Lily Anderson
CATEGORY: YA
PUBLISHED: May 8th, 2018
GENRE: Urban Fantasy. Mystery
PREMISE: A girl raises her best friend back from the dead to find out how she died, but...she winds up bringing back two other girls as well.
MY REVIEW: I normally am not interested in zombies. I don't know why, but they just honestly bore me. There's usually not really much you can do with them. But this one interested me, because there was a mystery and female friendship attached to to it.
For the most part, it's a fun ride. You have to suspend a lot of disbelief while reading it. The main character is a bit prickly, but I personally enjoyed her. But I find all the characters the YA crowd deem "unlikable", are characters whom I wind up liking a lot. Go figure. If you were picking this up because you heard rumblings about there being "great" LGBT rep...there really isn't. The rep is just two adult female side characters who barely get any screen time and it's just mentioned that they're in a relationship. I found them interesting, and would honestly love a book about them. But I'm not sure why it was advertised as great rep as honestly...the characters don't really do anything.
That disappointing bit aside, this was a decent read. I particularly liked where the mystery went. After this, I went and picked up Lily Anderson's debut book, and wound up loving that one as well. The review is coming soon. I think I have a new author to enjoy now.
WHO SHOULD READ: Buffy fans, those looking for books with witches/zombies
MY RATING: Four out of Five female friendships