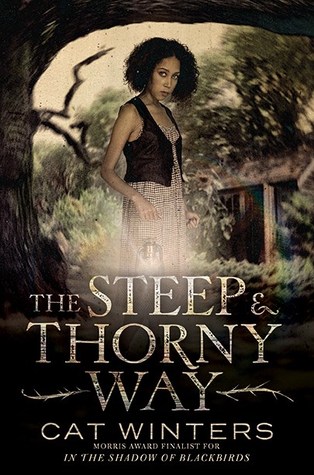 TITLE: The Steep and Thorny Way
AUTHOR: Cat Winters
PUBLISHED: March 8th, 2016
CATEGORY: YA
GENRE: Historical Fiction, slight paranormal, slight retelling
PREMISE: In a Hamlet influenced tale set in Oregon in the 1920s, Hanalee goes on the hunt for her father's killer. Who killed him turns out to be more complicated then she thought...
MY REVIEW: Once again, I love Cat Winter's ideas. She comes up with such interesting takes on things that otherwise probably wouldn't work very well. In this case, the idea is a Hamlet retelling set in 1920s Oregon dealing with all the race issues that took place then. You wouldn't think that would work, but Winters' manages it.
The story is creepy and vivid and as always with Winters, you can tell she did her research. I actually think this is my favorite book of hers so far. But she has another one coming out this year that looks awesome, so that could definitely change. As far as a retelling of Hamlet...it is loosely done and takes liberties with the tale. But it's still very good.
If you go into this wanting a straight forward retelling of Hamlet, this might not be your thing. Personally, I don't mind the liberties that much. This is still a very good historical fiction book.
WHO SHOULD READ: Historical fiction fans, Cat Winters fans, Hamlet fans
MY RATING: Four out of Five creepy mysteries