This week's themed list is a continuation for graphic novels. Now we're moving onto superheroes. The Marvel/DC comics can look intimidating at first because there's just SO MUCH of it. A lot of these heroes have been around since before the fifties, so it can be hard to figure out where to begin. Here's my tip: you don't actually have to start at the beginning. Some gatekeepers will probably try to make you believe you have to have read the entire back catalog of Batman or whoever to fully appreciate them. This is not the case. First, because there are a lot of throwaway issues in Batman/other people, second because honestly a lot of it is no longer in print or just not widely available. Plus, there have been a lot of retcons over the years, so any info from the classic age, may not even be relevant info anymore.
If you have seen the major movies of your superhero of choice, you basically have most of the info you need to get into some of the later superhero comics. For Superman, if you've seen the Christopher Reeve movies, or the nineties cartoon then you have a basic handle on Superman and are ready to jump in. Here are some good jumping on points or at least major story arcs that it's a good idea to know. if you want to talk Superman with someone or become more familiar with this well known hero.
1) Superman Chronicles series by Jerry Siegal
While you don't necessarily have to start at the beginning, if you wish too, pick up the Superman Chronicles. These trades collect all the early Superman Action comics from way back when in helpful chronological order.
2) Showcase presents: Superman Family series
If you were always more into Clark's friends at the Daily Planet then Clark himself, this is a good way to go. These trades collect some series from the Silver Age era that focused on Jimmy Olsen and Lois Lane
3) Crisis on Infinite Earths bind-up by Marv Wolfman
One of the first major comic-book crossover events out there. This restructured a lot of the DC universe. If you're watching The Flash and its story line about multi-universes, this one should be of interest to you.
4) Superman, Man of Steel series by John Byrne
This series took place after the above mentioned Crisis on Infinite Earths event. This took Superman out of the Golden/Silver age and into the more modern version of Superman people might be more familiar with now thanks to shows like Smallville or Lois and Clark.
5) The Death of Superman story arc
If you were around in the nineties, chances are you actually heard about this event. Yes, Superman died. It was a thing. But spoiler alert: he came back. Because it's comics and it's Superman. But this is a pretty big event in the Superman story line.
6) Superman: The Death of Clark Kent by Dan Jurgens
Perhaps not a good jumping on point, but an arc that is good for the character of Clark Kent.
7) Superman: The Wedding and Beyond by Dan Jurgens
Don't know about you, but my favorite part of Superman is Lois Lane. This arc was basically a long celebration of that relationship and it was fabulous.
8) Superman Action Comics 1: Superman and the Men of Steel by Grant Morrison
Looking to just skip all the old canon and just jump into the New 52 stuff? Then this is probably a good starting point.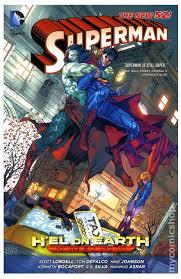 9) Superman: H'el on Earth story arc by Grant Morrison
This was a pretty big arc for the New 52 Superman.
Superman Vol. 1: Before Truth by Gene Luen Yang
The start of the current run of Superman. Just be warned: DC is doing another reboot this year. So don't get comfortable.