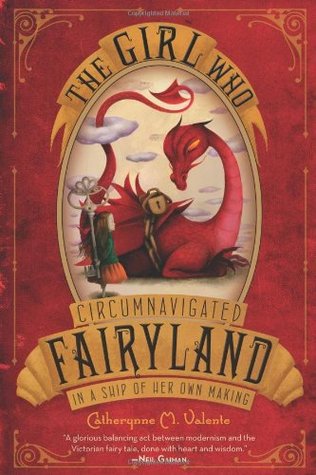 TITLE: The Girl Who Circumnavigated Fairyland in a Ship of Her Own Making
Book 1 in the Fairyland series
AUTHOR: Catherynne M. Valente
PUBLISHED: 2011
CATEGORY: Childrens/Middle-Grade
GENRE: Fantasy
PREMISE: A girl gets swept off to a fantasy land and has marvelous adventures.
MY REVIEW: I didn't connect as much to this one as much as everyone else apparently did. But to be fair to the author, I think that was mostly me. Picking up this book came at a time when some bad family news happened. So I haven't really been connecting to any of my books these past few weeks (which is also why there's been less posting). I've still been reading, it's just...sort of numb reading if you will.
If I hadn't been in the mood I have been, I suspect I probably would enjoy this one a whole lot more. The world is fun. The writing has a Terry Pratchett sort of feel. There's a lot of meta in it, that you'll likely catch if you read a lot of fantasy. If you have tweens, absolutely give this to them. I suspect it's even better when read in the age group it's aimed at.
So, no I didn't connect much to it. But that was mostly a it's not you, it's me sort of situation. Anyone who's not going through personal issues and who loves imaginative fantasy, will probably enjoy this one a lot.
WHO SHOULD READ: Tweens/Middle-Graders, fantasy fans, Terry Pratchett fans
MY RATING: Four out of Five snarky dragons