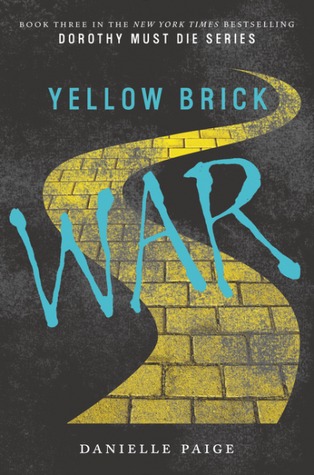 TITLE: Yellow Brick War
Book 3 in the Dorothy Must Die series
AUTHOR: Danielle Paige
PUBLISHED: March 15th, 2016
CATEGORY: YA
GENRE: Fantasy, Retelling/Classic Book referencing
PREMISE: Amy gets sent back to Kansas and deals with the consequences of being gone while she searches for Dorothy's famous shoes.
MY REVIEW: For some reason I thought this was the last book in this series. Turns out it's not. There's a forth one coming out sometime next year. Which explains the ending, I suppose.
I continue to like this series mostly for the twists the author puts on the Wizard of Oz. That's the strength of it. I also like the character growth that the author does with Amy. Those are the reasons I have stuck to this series despite some of the issues I have with it. While I do like the author tried to give more depth to a previously one-dimensional mean girl, it was a bit sudden and there are a lot of convenient plot devices going on as usual.
But it remains entertaining and fast-paced. I do look forward to the forth, I just hope they don't drag this series on and on like they have with some series in the past. Because there's only so much stretching out of a plot that one can do. As entertaining as this was, it was very much a filler book and not much happened.
WHO SHOULD READ: those that have read the first 3 books, Wizard of Oz fans, Once Upon a Time fans
MY RATING: Three and a half out of Five ruby slippers