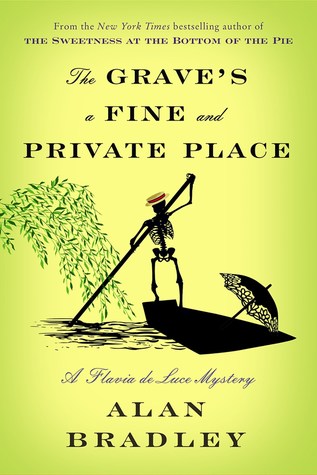 TITLE: The Grave's a Fine and Private Place
Book 9 in the Flavia de Luce series
AUTHOR: Alan Bradley
CATEGORY:often shelved as adult, I say it's middle-grade
PUBLISHED: January 30th, 2018 (in the US)
GENRE: Historical Fiction, Mystery
PREMISE: While dealing with the death of her father, Flavia stumbles upon another mystery...
MY REVIEW: I am a latecomer to the Flavia de Luce series. I read the first book around...two years ago, I believe. The series has been out for quite some time now. With the ninth book, it is coming to an end. I'm sorry to see it go, but I think it's just as well. I could tell the author was running out of ideas of what to do with the series. Some of the previous books wandered in plot a lot. The same happened with this book. But we do ultimately get a good conclusion for Flavia and everyone else in her life. For the record, I wouldn't be opposed to a series about adult Flavia de Luce. Just saying.
It's always a bit bittersweet when a series comes to an end. On one hand...you get to know the characters are going to be okay in the end. On the other hand: no more books. Flavia, I'm going to miss you and your delight in stumbling upon dead bodies.
WHO SHOULD READ: those who've read books 1-8, cozy mystery fans
MY RATING: Four out of Five series coming to an end
RATING FOR SERIES: Four out of Five