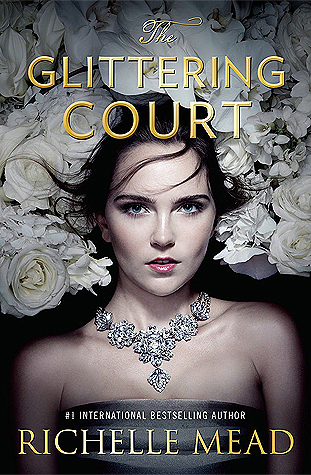 TITLE: The Glittering Court
Book 1 in a new series
AUTHOR: Richelle Mead
PUBLISHED: April 5th, 2016
CATEGORY: YA
GENRE: Historical Fantasy
PREMISE: A rich girl escapes her life by becoming part of the glittering court.
MY REVIEW: I feel like lately, Richelle Mead might be in a bit of a writers rut. Like, she's burnt out or something. Because the latest few books I've tried reading of hers....haven't been great. Possibly, she's just taking on too much or something. I don't know. I'm not involved in her life. I just know I haven't been enjoying her books nearly as much as I used too and this makes me very sad.
This new book in a series, is the latest Mead book to disappoint me. Now, I'm trying to keep in mind that perhaps this is just first book syndrome. The way a lot of her book series are set up is that the first book is okay and then by the time you get to the third or fourth, everything is awesome. Unfortunately...there's nothing really compelling about this first book that makes me want to get that far. This is a mish mash of ideas that I've seen before. It actually reminded me a lot of The Selection, which...is not great because I dislike that series a lot. The characters aren't terribly interesting and the romance...I've got issues, lets just say that.
This was just very disappointing. Probably even more so because I really like Mead and want to be able to say I loved it and she's back in form. But...I can't. There's nothing really offensive about this. It's not godawful. But...it is average at best. It lacks Mead's usual spark that makes me enjoy her books so much. It's competent, but ultimately...forgettable in a sea of YA series out there that are a lot like this one.
WHO SHOULD READ: The Selection fans, you don't mind fantasy that doesn't really focus on fantasy.
MY RATING: Three out of Five sad sighs