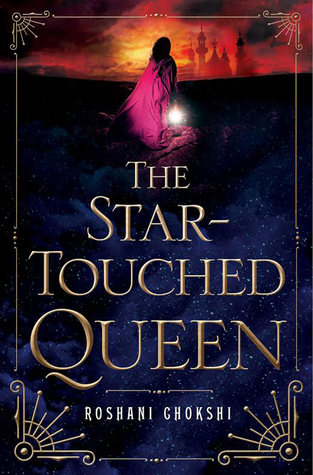 TITLE: The Star-Touched Queen
Book 1 in a new series
AUTHOR: Roshani Chokshi
CATEGORY: YA
PUBLISHED: April 2016
GENRE: Fantasy, Retelling/Reimagining
PREMISE: In an reimagining of the tale of Hades and Persephone, Maya is cursed with a dark horoscope. This curse leads her to an even darker marriage...
MY REVIEW: Ah Hades and Persephone, you are a favorite to retell aren't you? To be fair, I get it. There's a lot you can do with the tale. But personally, I still wish we could get retellings of other Greek myths. There are so many others out there that would be perfect for YA. But for now, I guess we'll have to deal with Persephone and Hades. It's a good thing I don't mind the myth.
This particular incarnation does an Indian take on it. It draw from Indian mythology and I do love what the author did with it. The world she came up with is beautiful and I adore the author's prose. Maya is a fun and spunky character who has more agency then most Persephone's get. This is a very readable book.
But...it also had pacing issues. The middle dragged a LOT and...honestly at the end of the day, other then the fantastic world the author built and the fact that there's tons of diversity...there's not much to set this book apart from all the other fantasy books going around right now. Especially this year when you have things like Wrath and the Dawn, Rebel of the Sands, E.K. Johnston's A Thousand Nights. So...I liked it a lot. I'm definitely going to be picking up the sequel. But...it is a pretty average book. But it is a good solid debut, so...I don't know. I'm a little split on giving it three and a half or four stars.
WHO SHOULD READ: Hades and Persephone fans, Wrath and the Dawn fans,
MY RATING: I'm going with four out of five horoscopes for now.