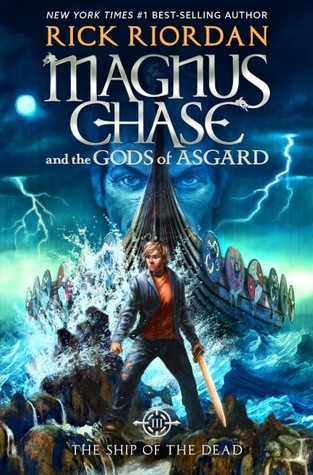 TITLE: The Ship of the Dead
Book 3 in the Magnus Chase Trilogy
AUTHOR: Rick Riordan
PUBLISHED: October 2017
CATEGORY: Middle-Grade/YA
GENRE: Fantasy, Adventure
PREMISE: Magnus and his friends go on a quest to try and prevent Ragnorak from coming...
MY REVIEW: Do I even need to review these books anymore? Probably not. I'm sure you all know what I'm going to say and how I'm going to rate this.
In short: another fun one from Rick Riordan. It tied up the series nicely. I love the way it ended. There was some great character stuff here and there. It all comes with the humor I've come to expect from this series. I'm a little concerned about why Anna and Percy are sad. I am now really nervous for the last Apollo book, coming in May.
WHO SHOULD READ: Those that have read Magnus Chase books 1 and 2, Rick Riordan fans
MY RATING: Four out of Five Lokis
RATING FOR TRILOGY: Four out of Five