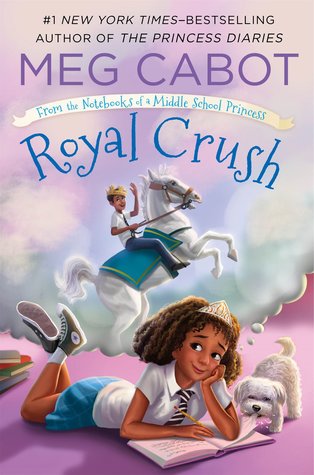 TITLE: Royal Crush
Book 3 in the From the Notebooks of a Middle-School Princess series
AUTHOR: Meg Cabot
PUBLISHED: August 2017
CATEGORY: Middle-Grade
GENRE: Contemporary
PREMISE: Olivia's adventures as a princess continue as her school enters a sports competition while she juggles school crushes of her classmates and her own personal crush...
MY REVIEW: This review will be short because my opinion on this series hasn't changed much. It's just freaking adorable.
Is it necessary? Not really. If you were happy with where Cabot left things off in the original Princess Diaries series, you will not miss much if you don't read this (or Royal Wedding). But it might be fun to read this series if you want to know what Mia and co. are like as adults. Also you get to learn some fun new info like the fact that apparently Grandmere shot Nazis. I want that movie, Disney.
If you've read the first two books, this is more of the same. It has all the cuteness of the first two. There are some great fun moments, and we get a sweet ending with Olivia and Khalil. I don't know if there's going to be more in the series (I haven't found any announcements of any sort) but I welcome them if they do come. As for Cabot, she is apparently going to be writing a graphic novel series with DC about Black Canary in middle-school. I am so here for that. Also apparently she has an adult book of some sort in the works. No word yet on what it is. ;crosses fingers for an Insatiable series continuation book;
WHO SHOULD READ: Meg Cabot fans, those that have read the first two books, Princess Diaries fans
MY RATING: Four out of Five cute books