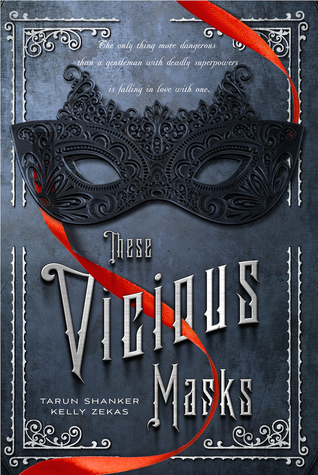 TITLE: These Vicious Masks
Book 1 in a new series
AUTHOR: Tarun Shanker and Kelly Zekas
PUBLISHED: February 9th, 2016
CATEGORY: YA
GENRE: Historical Fantasy
PREMISE: When her sister mysteriously disappears, a girl discovers she and her sister have unique gifts...
MY REVIEW: Remember the Steampunk Chronicles by Kady Cross? Well, this series definitely brought that series to mind. They're very much alike in terms of setting and plot.
Writing style, character, and tone however, they are different. This one has a humorous tone that was appealing The characters are snarky and as we all know, if your character snarks, I'm pretty much going to love them. There were many fun plays with dialogue in this one so reading it was a breeze.
It's not the most spectacular thing I've ever read. Again, it's very similar to the Steampunk Chronicles, so it's not terribly original. But, it is enjoyable. I may or may not give the sequel a look.
WHO SHOULD READ: Steampunk Chronicles fans, X-Men fans, Historical Fantasy fans
MY RATING: Three and a half out of Five debutante gowns