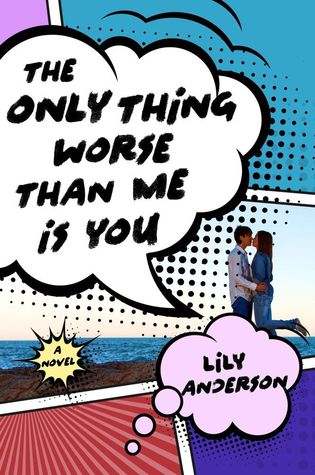 TITLE: The Only Thing Worse Than Me is You
AUTHOR: Lily Anderson
CATEGORY: YA
PUBLISHED: 2016
GENRE: Contemporary, Romance
PREMISE: When their friends start dating, two people who can't stand each other agree to try and get along for their friend's sake....
MY REVIEW: After reading and enjoying Undead Girl Gang, I decided to just go ahead and read the author's other books. This one is different from Undead Girl Gang. It's a contemporary book with romance in it. Luckily for the author, I've been in a romance mood, thanks to Crazy Rich Asians and the To All the Boys I've Loved Before movie.
This is one of those classic enemies to lovers kind of plots. It's honestly, just fun. It's also very nerdy. All the characters are geeks, so there are references to all sorts of things. The dialogue is great, there's a bit of a funny twist at the end and I liked all the friends.
If you want ground-breaking, this book isn't it. But if you want just a cute and fluffy contemporary romance, with lots of geek references, it absolutely delivers. There's a companion book out there and I've already read that too, so a review will be coming soon.
WHO SHOULD READ: geeks, contemporary romance fans
MY RATING: Four out of Five cute romances