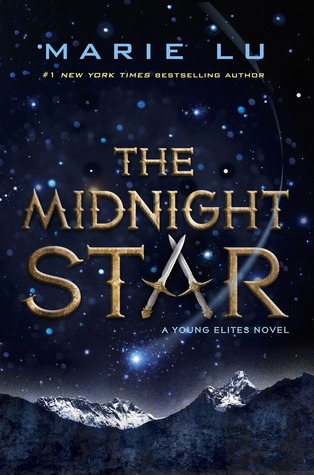 TITLE: The Midnight Star
Book 3 in The Young Elites Trilogy
AUTHOR: Marie Lu
PUBLISHED: October 2016
CATEGORY: YA
GENRE: Fantasy
PREMISE: Adelina has taken control. But she is forced to reunite with old comrades and her sister when a new danger appears.
MY REVIEW: This trilogy has been...interesting to say the least. When it first started, I liked it well enough but also found it pretty average. Then...I read the second book and Lu took the trilogy in a direction I actually wasn't at all expecting. That doesn't happen much in YA nowadays. I still tip my hat to her for that.
This last book continued to surprise. Once again, there was an ending I didn't expect. The author did not take easy routes with things. Storylines were tied up nicely (and in some cases tragically).
This is one of the few trilogies that has managed to get better with each installment. I am very pleased with how it went and I am extremely excited for Warcross. I think Marie Lu has basically made it onto my auto-buy list.
WHO SHOULD READ: Marie Lu fans, those that have read the first two books
MY RATING: Four out of Five satisfying endings