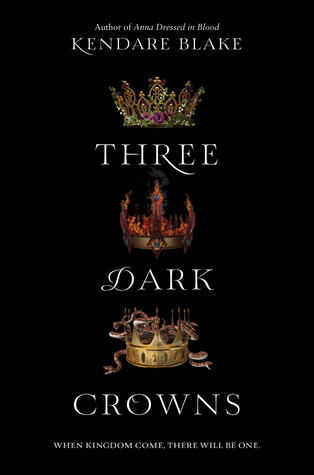 TITLE: Three Dark Crowns
Book 1 in the Three Dark Crowns series
AUTHOR: Kendare Blake
CATEGORY: YA
PUBLISHED: August 2016
GENRE: Fantasy
PREMISE: Three sisters with magical gifts have to compete in a battle to the death so that one them can become queen.
MY REVIEW: Kendare Blake has basically become one of those authors whose books I will always read. I adored the Anna Dressed in Blood books, and I liked the trilogy she did after. She's a solid writer. Even books I was ho hum about were still a good time. Three Dark Crowns is no exception.
This is dark fantasy and so it's not what I'd call a happy times sort of book. But like all of Blake's books, her writing grabs you and the world she builds is fascinating. The characters are also complicated as always. The romances weren't terribly necessary, but it's YA, what can you do?
We only get to the beginning part of the tournement and the book ends on quite a surprise ending. I can't wait to see where this goes. If you're a Game of Thrones fan who is pining for the next season (or the next book, come on already George) I would definitely recommend this one.
WHO SHOULD READ: Kendare Blake fans, Game of Thrones fans, dark fantasy fans
MY RATING: Four out of Five thrones