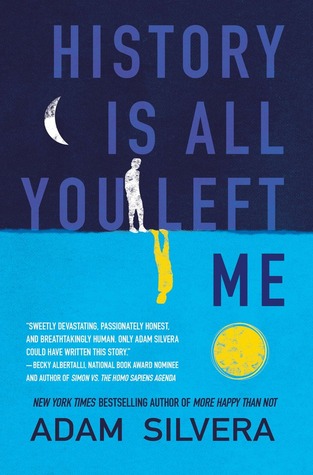 TITLE: History is All You Left Me
AUTHOR: Adam Silvera
PUBLISHED: January 17th, 2017
CATEGORY: YA
GENRE: Contemporary
PREMISE: A boy tries to get over the death of his ex-boyfriend. The only one that seems to understand is the guy his ex-boyfriend dated after they broke up...
MY REVIEW: This is actually my first foray into Adam Silvera's writing. I have not yet read More Happy Than Not. After this, I'm definitely picking that one up sooner, rather than later, because this was GOOD. I have to say, contemporary lately, particularly some of the ones I've been reading this past year have been knocking it out of the park. I used to never really bother with contemporary, but nowadays, that's definitely not the case. So far some of the top books I've read this year have all been contemporary.
One of the things that really impressed me about this: it actually admitted the relationship between these two boys was not healthy. Like...thank you. I have read way too many books where the relationship is clearly not healthy, but author went ahead and tried to make them a happy ending sort of couple anyway. Silvera did not go that route and I'm very grateful for that. More authors need to do this. Both main characters manage to move on and deal with their grief, but it's not a "your love helped save me!" sort of situation like so many of these kind of books tend to turn into.
So this book was definitely a very present surprise. I won't lie and say it's an utter joy to read. It's good, but it is very sad. If you're dealing grief this will possibly trigger you like whoa. But the writing is good, the characters are fully developed (also yay for present parents in YA!) and it dealt with things honestly and realistically. This book will very likely wind up on my top ten list of the year, or at least be close if I happen to read things better in the second half of the year (completely possible, there are a lot of good looking books coming out this year).
WHO SHOULD READ: fans of More Happy Than Not, David Levithan fans, John Green fans
MY RATING: Four out of Five incredibly satisfying books