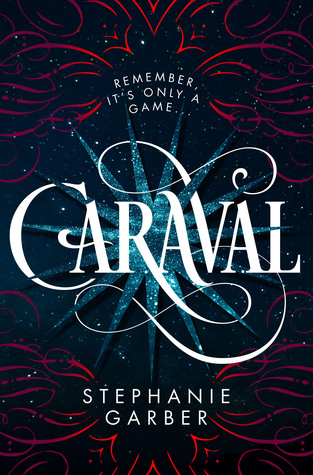 TITLE: Caraval
Book 1 in new series
AUTHOR: Stephanie Garber
CATEGORY: YA
GENRE: Fantasy/Romance
PREMISE: A girl and her sister get swept up in a magical game at a magic carnival...
MY REVIEW: Most of you have probably either already read this, or seen all the reviews, or at least know about this. It has been a pretty big buzzed about book this year. It was basically THE book to get your hands on at last years BEA and the marketing for it has been great. Naturally with most books like this...people had expectations not met and so there are lots of mixed reviews out there. It seems to be one of those books people either really loved or were just meh about.
I'm in this weird place where I liked it a lot...but I also am not completely in love with it. One thing I loved was the magic part of it. The imagination in this was great. The world-building definitely could have used a lot more polishing, but we're spending most of the time in the game so I get why we can't see everything yet. The characters...were just okay. They got the job done. I didn't really have any feelings on the romance, other then whatever. I definitely don't think this rivals Night Circus like the publishers kept trying to say. Sorry, it is not up to that level at all. Also for the last time: please stop comparing new debuts to beloved older books. You tend to set up high expectations that way and that tends to make people more critical then usual of the book. You are not helping your new author at all with that nonsense.
For a debut, this is really good. I have a feeling if it was not a debut, I'd be grading it a bit lower, but the author pulled the story off, I really hope the next book is about the sister because she was frankly ten times more interesting to me then the main character was. If you want just a entertaining story with romance and magic, this is your book. It's definitely not better then the Night Circus, but it is still good.
WHO SHOULD READ: Night Circus fans, those that like romance with fantasy elements
MY RATING: Four out of Five magic carnivals