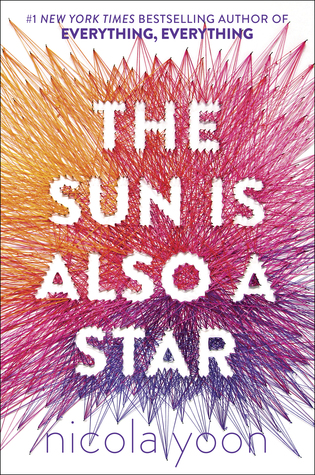 TITLE: The Sun is Also a Star
AUTHOR: Nicola Yoon
PUBLISHED: November 2016
CATEGORY: YA
GENRE: Contemporary Romance
PREMISE: A girl and a guy meet on a very important day in their lives, but it seems their romance is doomed due to circumstance...
MY REVIEW: So here's the thing about Everything Everything for me: I liked it...but it was mostly just okay for me. I have too many issues with that ending to ever really love it. But this book? This book I love. I actually think this one is ten times better then Everything, Everything.
Everything about it is much more realistic. There's a less cringe-worthy ending. It also touches upon so many issues in just a short span of time. Also, I like this romance more for some reason. Yes, it was insta-love, but...it was realistic insta-love, if that makes sense (it probably doesn't and won't till you get to the end of the book). Characters were also much better developed. Everything was just...much better and far more polished for me then Yoon's first book was. NOW I'm definitely a fan.
If you're looking for a sweet (but realistic) romance that touches upon social issues, this book is definitely a good one to pick up.
WHO SHOULD READ: fans of Everything Everything, contemporary romance fans
MY RATING: Four out of Five realistic endings