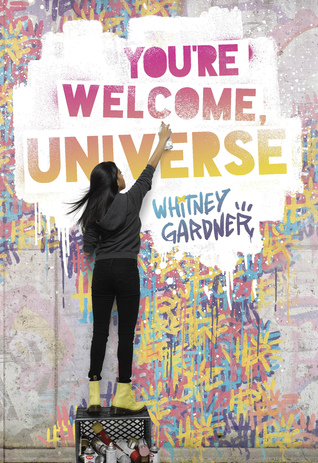 TITLE: You're Welcome, Universe
AUTHOR: Whitney Gardner
PUBLISHED: March 7th, 2017
CATEGORY: YA
GENRE: Contemporary
PREMISE: A deaf girl gets sent to a regular school after getting kicked out of her old one for helping out a friend...
MY REVIEW: This one was a very pleasant surprise for me. I figured because it was contemporary, I was probably going to figure out how it went. But...I was wrong, on most counts. This was actually pretty damn refreshing.
There's so much in this book to unpack. I loved that the characters weren't perfect. I loved that for once, a character was allowed to get angry at the injustices happening to her. Far too often, I've seen character get crappy things happen to them only to have them just shrug and move on. Julia, does not do that, she calls out the BS and I love it.
As you can probably guess, I just basically loved this book. Nothing went the way I thought it would. There was no romance. It wasn't a typical contemporary book at all. It was just honestly, very refreshing.
WHO SHOULD READ: Those looking for diverse YA books, contemporary book fans
MY RATING: Four and a half out of Five refreshing books