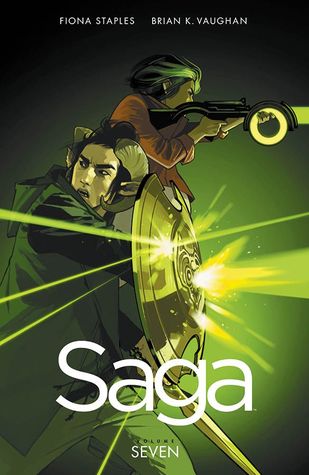 TITLE: Saga
Vol. 7 in the Saga series
AUTHOR: Brian K. Vaughan
ARTIST: Fiona Staples
PUBLISHER: Image Comics
STARTED: 2012
ISSUES COLLECTED: 37-42
GENRE: Science-Fiction
PREMISE: Hazel and her parents rest in a place that has never-ending war...
MY REVIEW: Okay, for those new to comics, or who by some chances are into comics but not have picked Saga up yet, I'll summarize it for you: Romeo and Juliet in space, if Romeo and Juliet were soldiers, who were smarter and got together to have children and deal with the war. Saga has been around a few years now and probably doesn't need my help giving it press, but what the hell, I feel the need to talk about it.
Because as always, major things went down in this volume. I'll refrain from spoilers, but if you know the series, you probably already have an idea of what to expect. And you know why I have feelings right now. There was a character death (of...sorts...) that I'm sad about. We get to see Hazel and her family get to be a family for awhile which was nice to see. There's just...so much going on in this volume as there always is. I definitely advise starting at the first volume. This is an ongoing story arc, unlike Marvel or DC, you do have to read this one from the beginning or you'll be lost.
This series is space opera at its best. I will warn, it's a very adult series as most Image comics tend to be. But if you don't mind sometimes very random gore/sex (and I do mean random...), it's a great series to dive into. As a bonus, the art is gorgeous and it is one of the few long-running series out there that doesn't constantly change artists so you're not suddenly getting a different art style every other issue.
WHO SHOULD READ: Star Wars fans, space opera fans
MY RATING: Four and a half out of Five