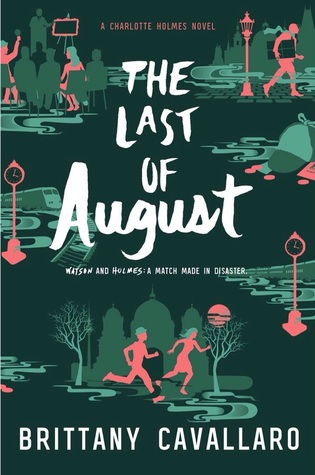 TITLE: The Last of August
Book 2 in the Charlotte Holmes series
AUTHOR: Brittany Cavallaro
PUBLISHED: February 14th, 2017
CATEGORY: YA
GENRE: Mystery
PREMISE: Charlotte and Jamie go on the case when Charlotte's uncle goes missing...
MY REVIEW: By all rights, I probably shouldn't like this series. On one hand, yeah gender-flipped Holmes is awesome. On the other hand, now suddenly, it's okay for Holmes and Watson to be involved when one of them is female (I hate when that happens and that is one of the reasons I love Elementary: they gender flip a character, but don't do any romance between the two). But this scenario works because it's actually not a gender-flipped Sherlock Holmes: it's an ancestor of Sherlock Holmes who happens to be female.
I love the way the author played around with that. Family legacies play a big part in this, and the idea of Holmes and Moriarty ancestors playing cat and mouse with each other for decades honestly...kind of fits to me. The mystery is good, the fallout from the mystery is even better.
Honestly, if you're going to gender flip Holmes, do it this way. I honestly, don't even mind the romance part between Holmes and Watson, mostly because the author doesn't play it as a true love sort of deal. It's an awkward teenage relationship. With all the drama that implies. All in all, this was a very satisfying sequel.
WHO SHOULD READ: Sherlock Holmes fans, Lock and Mori fans
MY RATING: Four out of Five modern Sherlocks