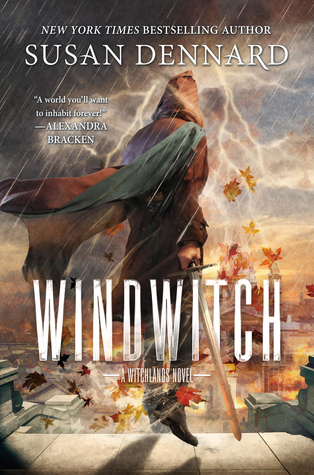 TITLE: Windwitch
Book 2 in the Witchlands series
AUTHOR: Susan Dennard
PUBLISHED: January 3rd, 2017
CATEGORY: YA
GENRE: Fantasy
PREMISE: Believed to be dead, Merik goes after the people he thinks tried to kill him. Meanwhile Safi has be en captured, but her thread sister Iseult makes a dangerous bargain with an assassin to track her and rescue her.
MY REVIEW: I enjoyed Truthwitch, I really did. The only thing is, I was a big fan of the author's previous trilogy Something Strange and Deadly and to me...Truthwitch just didn't compare. With this sequel however...I think I'm revising that opinion. I suspect I mostly just had too high expectations.
This second book was an excellent sequel. It's pacing is near perfect, there's character development, world-building development. I suspect the first book was just mostly a prologue bit and maybe that's why it didn't grab me immediately. Now that the plot has really started, I'm loving this series and can't wait for the next books (we're getting two more!).
WHO SHOULD READ: fantasy fans, Susan Dennard fans, witch book fans
MY RATING: Four out of Five okay now I'm on board feelings