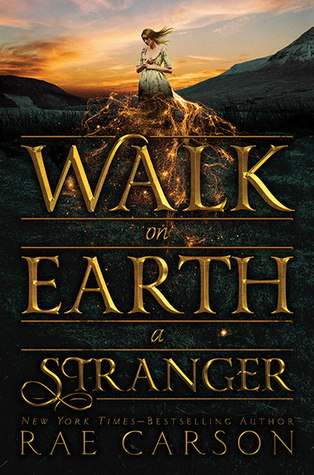 TITLE: Walk on Earth a Stranger
Book 1 in the Gold Seers Trilogyy
AUTHOR: Rae Carson
PUBLISHED: 2015
CATEGORY: YA
GENRE: Magical Realism, Historical Fiction
PREMISE: A girl with a gift to sense gold goes on a journey to the west during the gold rush.
MY REVIEW: So I read the first book in Rae Carson's debut trilogy way back when I first started this blog. I...didn't care for it. I wanted too, but...just didn't. People assured me it got better and I believe in giving second chances, so I picked this up in the library last time I was there.
It's....okay. Like most magical realism, I just am frustrated that the author takes this awesome premise: a girl able to sense gold during the gold rush years....and barely uses it. It's even more annoying because the summary made it sound like that was the focus and this was full on historical fantasy. It is not. The gift just barely features in it. A majority of this is basically Little House on the Prairie, they're just going west.
As an historical fiction novel...it's decent. I do see a step up in writing from that long ago first book. The research the author clearly did shows through. I like the main character. I'm just not sure if I care enough to continue. I felt like the ending was a good place to leave off. Maybe I'll pick it up if I find myself in the mood for historical fiction. Maybe the magical part actually gets used in the second book.
WHO SHOULD READ: Magical realism fans, historical fiction fans, Little House on the Prairie fans, Rae Carson fans
MY RATING: Four out of Five mining picks