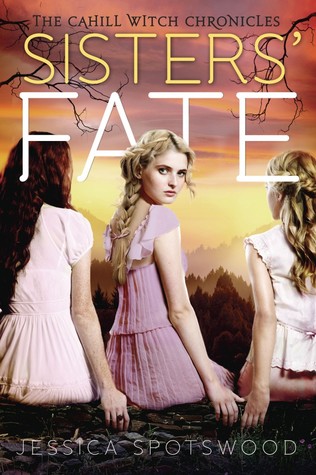 TITLE: Sister's Fate
Book 3 in the Cahill Witch Chronicles
AUTHOR: Jessica Spotswood
PUBLISHED: August 14th, 2014
CATEGORY: YA
GENRE: Historical Fantasy, Witches
PREMISE: Cate's world unravels slowly around her bringing everything to a final confrontation with the Brotherhood.
MY REVIEW: It's not often I can say I've loved a trilogy all the way through. So I'm very happy when it does happen. Sister's Fate delivered and made me wish once again that this trilogy got more attention because it really is fantastic.
The plot proceeds right where it left off and the author doesn't waste your time trying to catch you up. I love when authors give their readers credit and assume they remember about character b or c. The twists keep coming, there's great commentary on sisterhood/feminism throughout. The sister dynamic remains extremely complicated and fascinating to watch unfold in ways I didn't expect.
Basically, I loved this one and still adore this criminally underrated trilogy. If you were a fan of the Gemma Doyle series, seriously check this one out.
WHO SHOULD READ: Fans of the first two books, Gemma Doyle fans
MY RATING: Four and a half out of Five witch rebellions
RATING FOR TRILOGY: Four and a half out of Five satisfied happy sighs