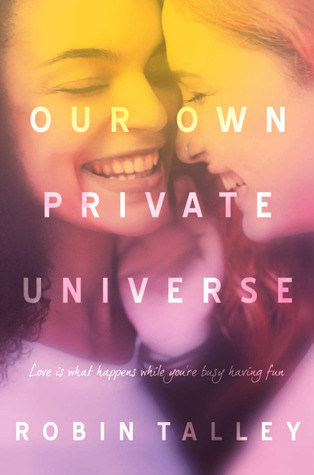 TITLE: Our Own Private Universe
AUTHOR: Robin Talley
CATEGORY: YA
PUBLISHED: January 31rst, 2017
GENRE: Contemporary, Romance
PREMISE: A girl falls in love with another girl at camp.
MY REVIEW: This is my first time reading Robin Talley. She's been popping up on the YA scene for a while now. I've been meaning to get to her stuff, it just never happened until now. I do definitely see why she's gained fans. Her writing is good. She's not afraid to present teenagers as they are. Her characters are real.
I will say I was surprised by how explicit this was. I'm not judging the sex. I liked how it was regular awkward teen sex and probably one of the most realistic first times I've read. I'm just surprised that it was in a YA book because most of the time...the sex doesn't get that explicit. If there's sex at all. So...be warned about that if you're recommending this to teens. Maybe recommend it for older or at least teens who can handle sex scenes. But other then that surprise, this book was enjoyable. It was a little slow, and sometimes it felt like the author wanted to talk about lots of issues and so just crammed them all in there at once.
But for the most part I liked it. The story is average. But I am pleased that finally, we have someone talking about things like things like biromantics and pansexuality. That was nice to see and very important. But other then that, it was mostly just a cute romance with an average plot.
WHO SHOULD READ: those looking for cute LGBTQA romances, contemporary romance fans, Robin Talley fans, fans of Georgia Peaches and Other Forbidden Fruit
MY RATING: ....I honestly can't make up my mind between Three and a half to Four out of Five.