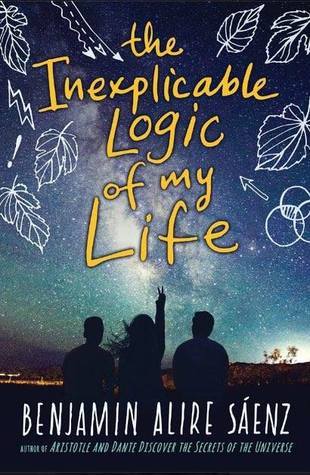 TITLE: The Inexplicable Logic of My Life
AUTHOR: Benjamin Alire Saenz
CATEGORY: YA
GENRE: Contemporary
PREMISE: A boy navigates his life when changes start to abruptly happen.
MY REVIEW: I'll be honest with you: I had some pretty high expectations for this book. Because I've read the author's other book, Aristotle and Dante Discover the Secrets of the Universe and pretty much loved it. For the most part the expectations were met.
Saenz still writes beautifully. There's still great family dynamics and all sorts of thoughtful moments in this book. Characters are fully fleshed out. I have two issues, one...I didn't care for the way the author wrote Sam. I never got a handle on her. Mostly because when she said stuff, I was pretty sure the stuff she said was not her opinion, but the authors and...authors, don't do that. We can tell when stuff is actually your opinion. There was also some ways he went about writing some stuff that...yeah, definitely could have been handled better.
But overall, this was very good. The good far out weighed the bad. Not as good as Aristotle and Dante in my opinion, but still, a very solid second book.
WHO SHOULD READ: fans of Aristotle and Dante, John Green fans
MY RATING: Four out of Five heart strings getting tugged