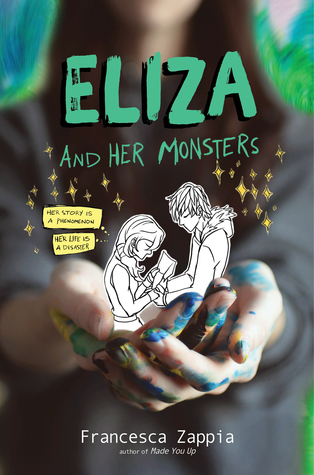 TITLE: Eliza and Her Monsters
AUTHOR: Francesca Zappia
CATEGORY: YA
PUBLISHED: May 30th, 2017
GENRE: Contemporary Romance
PREMISE: A bullied girl makes friends with the new kid. A new kid who happens to be a huge fan of the popular webcomic series she actually creates.
MY REVIEW: This is one of those books that totally flew under my radar when it was released but then I got the book in my OwlCrate box (a monthly book box subscription that I highly recommend) and suddenly it was everywhere. After reading it, I definitely see why.
First, there's a very heavy Fangirl vibe to this. But whereas Fangirl was sort of a criticism of fanfic and fandom at times, this is a love letter to it. It doesn't sugar coat it, but it does show how it helps. I also loved that it showed a wide variety of people can be a part of a fandom. Far too often, I see this idea that only nerdy people are into fandoms and guys...that's really not true anymore.
For the most part, this is a typical contemporary. There's a meet cute, family drama issues, life lessons learned, a cute romance, etc. But it's so utterly charming you don't care. The art in between showing the webcomic itself was also a very nice touch. This is personally going on my favorites list from this year.
WHO SHOULD READ: Fangirl fans, Geekerella fans, geeks in general
MY RATING: Four out of Five webcomics