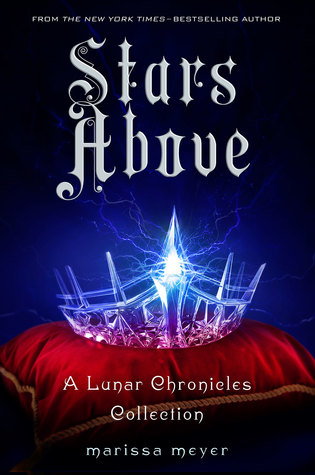 TITLE: Stars Above
Book 4.5/companion book in the Lunar Chronicles series
AUTHOR: Marissa Meyer
PUBLISHED: February 2016
CATEGORY: YA
GENRE: Sci-Fi
PREMISE: A collection of short stories taking place in the Lunar Chronicles series.
MY REVIEW: Short story add ons to series seems to have become a thing in YA. When it comes to a series like Lunar Chronicles, I don't particularly mind it. Especially if it's a wide variety of stories such as this collection.
Some of these I have read before as they were released with previous Lunar books. But some were new. Most, didn't really add anything revealing, except for maybe the one with Scarlet's grandmother. We learn about her grandfather's identity and some more about what Scarlet's childhood was like. Others were just nice supplied info.
If you are a die-hard Lunar Chronicles fan who is going through withdrawal from the series, this is a nice way to live in the world a bit longer. It's also a nice holdover for if you're waiting for Meyer's next series which apparently is dealing with superheros. To which I say, hell yes.
WHO SHOULD READ: Lunar Chronicles fans
MY RATING: Four out of Five happy endings