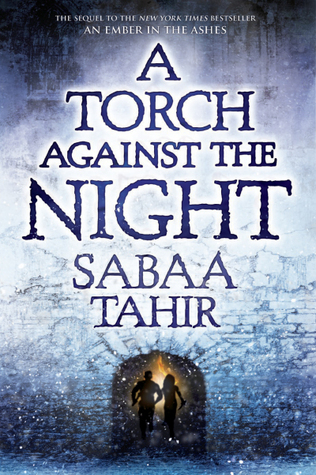 TITLE: A Torch Against the Night
Book 2 in the Ember in the Ashes series
AUTHOR: Sabaa Tahir
CATEGORY: YA
PUBLISHED: August 30th, 2016
GENRE: Fantasy
PREMISE: Elias and Laia are now on the run with Helene close at their heels on Marcus's orders...
MY REVIEW: So...I honestly don't remember Ember in the Ashes all that much. I remember liking it well enough (but apparently not as much as other people did, as these things go) but like actual details...I remember there being fighting. Luckily A Torch Against the night did some recapping so that jogged my memory. I don't think this is a mark against the book or anything. I was reading quite a bit at that time. It's a miracle I remember half of it.
This one is mostly like the first one for me: it's a lot of action. There's always something happening. I finished it in less then two days. There were some twists that were interesting but this was for the most part very much a second book in a series. It was mostly building towards getting to the third book. Of all the things, I found Helene's story the most interesting. In fact...at times I found myself wishing the book was only about her, because she was more interesting to me then Elias and Laia.
This was a very good sequel. It got the job done. I don't particularly think this series is that groundbreaking like people seem too, but it is definitely entertaining. If you want a fast-paced fantasy-adventure, this series is worth a shot.
WHO SHOULD READ: fans of Ember in the Ashes, fantasy fans
MY RATING: Four out of Five people on the run