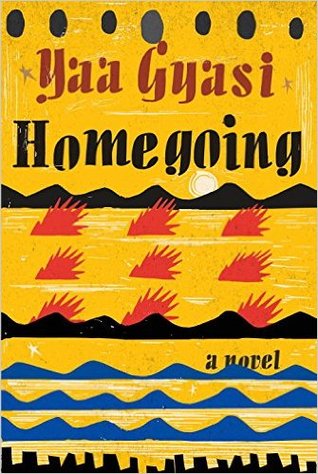 TITLE: Homegoing
AUTHOR: Yaa Gyasi
PUBLISHED: June 7th, 2016
CATEGORY: Adult
GENRE: Historical Fiction, Family drama
PREMISE: A sweeping family saga that follows the ancestors of two half-sisters who wound up in very different circumstances...
MY REVIEW: This novel has been all over the place this year in the literature circuit and there is a good reason for that: the writing is just damn good. The fact that this is the author's first book is mind-blowing to me and makes me eager for what we have in store for her future books.
This is not really an action-packed book. It is mostly a character study and a look at how our ancestors lives and history of the world effects where we end up. It does have multiple points of views so if that is an annoying thing, this might not be for you. It also does not shy away from things like abuse, racism, and so on. So it's not really what I'd call a happy book.
But it is a very thought-provoking book. The only issue I really have with this is sometimes I wanted to spend more time with some of the characters and then we were off to the next ancestor. I understand why it was done that way though. The prose are still gorgeous and it all ties up beautifully. If this is Gyasi's debut book, we are in for some damn good books from her in the coming years.
WHO SHOULD READ: fans of family saga type books, fans of Roots
MY RATING: Four and a half out of Five gorgeous writing prose