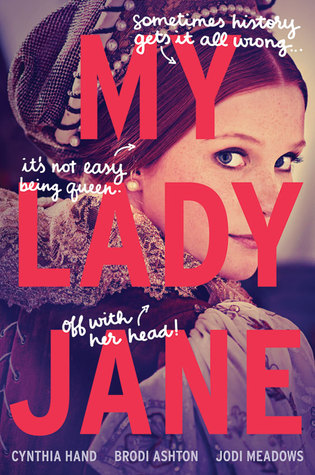 TITLE: My Lady Jane
AUTHOR: Cynthia Hand, Brodi Ashton, Jodi Meadows
CATEGORY: YA
PUBLISHED: June 7th, 2016
GENRE: Historical Fantasy
PREMISE: A humorous alternate history retelling of Lady Jane Grey's time as queen.
MY REVIEW: I'll be honest, I was a bit skeptical at first of this book. Lady Jane Grey, for those who don't know, had a very sad ending in her life. I wasn't sure how one could make a humorous story out of that. I should learn to trust YA authors more. They managed it.
This book mostly works for me due to its tone. The premise is silly and the tone owns that. In the beginning the narration point blank says hey, we're screwing with history here. The humor is very Discworld-Gail Carriger like and that made very enjoyable.
If you're looking for a serious historical fiction book, this is not going to be your book. But, if you like hilarious takes on history with badass females in it...I highly recommend this one. It looks like this one is a stand alone, but apparently the authors are working on another book like this about the Bronte sisters. I can't wait.
WHO SHOULD READ: Discworld fans, humor book fans, parody fans, historical fantasy fans
MY RATING: Four out of Five shapeshifting royals