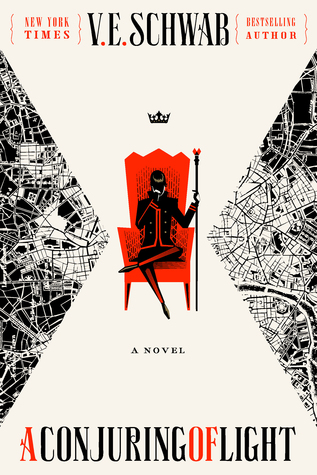 TITLE: A Conjuring of Light
Book 3 in Shades of Magic Trilogy
AUTHOR: V. E. Schwab
PUBLISHED: February 21rst, 2017
CATEGORY: Adult
GENRE: Fantasy
PREMISE: Things come to a head in the final book of the Shades of Magic series.
MY REVIEW: As you all know, I'm a big Victoria Schwab fan. Or V. E. Schwab as she's known in the adult fiction section. This trilogy has been a fun ride from beginning to end.
I will say my one issue with this is...it kind of ended predictably. There wasn't really much in here that I wasn't expecting to happen. There were one or two surprises, dealing with side characters that I didn't expect. I also am really pleased with how the author handled the Kell/Lila romance at the end. It was a very realistic ending for their characters. No forced happy ending marriage plus babies.
But even though it was kind of a predictable ending, it was still a satisfying ending. I'm very pleased with it. It looks like we might be getting a new trilogy set in this world (no release date yet though, so will probably be awhile) and I have to say...I'm for it. She also has a few more books in YA coming so it looks like we'll be getting lots of Schwab in our future and that makes me very happy.
WHO SHOULD READ: those that have read the first two books, Victoria Schwab fans, fantasy fans
MY RATING: Four out of Five solid endings
RATING FOR TRILOGY: Four out of Five