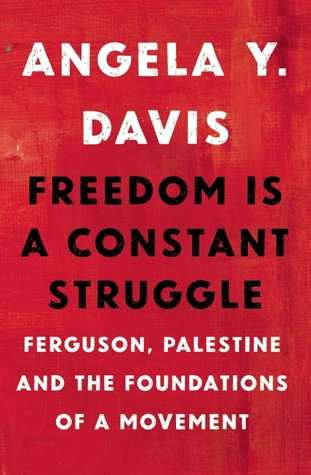 TITLE: Freedom is a Constant Struggle
AUTHOR: Angela Y. Davis
PUBLISHED: January 2016
CATEGORY: Non-Fiction
GENRE: Speech/Interview/Article collection
PREMISE: A collection of interviews/articles/speeches that Angela Y. Davis gave over the past few years.
MY REVIEW: I'm not terribly sure how to review this one to be honest. It's not really a book persay, it's mostly just a collection of speeches, or articles, or interviews that activist Angela Y. Davis gave in recent years. If you are a big Davis fan, this is a good one to have. If you aren't...you probably weren't going to seek it out in the first place.
There are a lot of interesting thoughts here. Reading this made me wish I could see her give these speeches in person. I wish they gave some sort of background on what the items were for exactly. Some I could figure out, but others such as the interviews, I did not.
This is a very short book. You can probably read it in less then a day. The speeches at least are well worth your time.
WHO SHOULD READ: Angela Y. Davis fans, those interested in the recent BLM protests
MY RATING: Four out of Five interesting speeches