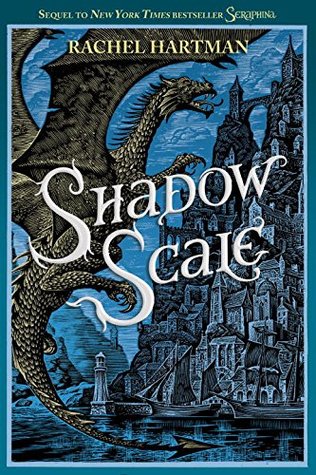 TITLE: Shadow Scale
Book 2 in the Seraphina series
AUTHOR: Rachel Hartman
PUBLISHED: March 2015
CATEGORY: YA
GENRE: Fantasy
PREMISE: Seraphina gathers people like herself in order stop a war between dragons and humans.
MY REVIEW: I meant to get this finished ages ago. I adored Seraphina when I finally got to it. I bought this immediately after it came out. Then...forgot to read it? No real reason I didn't get to it until just now. It's just I have a lot of books on my list and books I own tend to be put off until I finish up my library books. But I have finally finished it and I really liked it.
This is very much a slow burn sort of book. Much of the plot is in character stuff and politics. There's not much action until the last hundred pages or so. I know the author was struggling with this and I can see why it took her awhile to write. But the ending does come to a very satisfying conclusion. I also am really pleased with how the author ended the love triangle.
As I said, it's a slow book. Which is probably why it's gotten so many mixed reviews. Slow books can be a mixed bag with people. It probably didn't help that there were really high expectations for this. Personally, I think the author did a good job. I look forward to whatever she has in store for us next.
WHO SHOULD READ: fans of Seraphina, high fantasy fans
MY RATING: Four out of Five dragons
RATING FOR SERIES: Four and a half out of Five