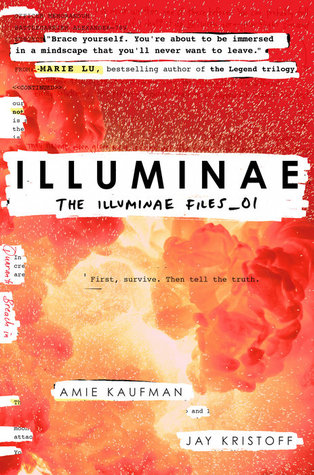 TITLE: Illuminae
Book 1 in the Illuminae Files
AUTHOR: Amie Kaufman and Jay Kristoff
PUBLISHED: October 2015
CATEGORY: YA
GENRE: Sci-Fi/Dystopian, Romance
PREMISE: Told entirely through documents, this is the story of two teens in the future who deal with a war.
MY REVIEW: This book has been all over the place. It just recently got optioned for a movie by Brad Pitt's company so you'll likely be seeing even more of it soon. First, if you've been putting this off because of the huge page count, you really don't have too. It's told in documents of all kinds so really, those six hundred pages fly by really fast. I actually finished this in two days, and that was with lots of breaks in between.
Story wise...I personally feel this is average dystopian stuff. Sorry, but it is. Honestly, the only really clever thing going on in it is the way the story is told. It's a good story, don't get me wrong. I love the whole rebels going against the system vibe of it. The characters are also interesting. The romance...is honestly the least interesting thing about it. The rest of it is pretty entertaining though.
It's a very clever idea and I have to say I love how authors are finding new ways to tell stories nowadays. Is it a gimmick? Maybe. But it's a gimmick that works well for this story. I'm not sure how well this will translate onto film. Honestly, I suspect it will make a generic film. But book wise, it works very well.
WHO SHOULD READ: Dystopian fans, Across the Universe Trilogy fans, sci-fi romance fans
MY RATING: Four out of Five very thorough files