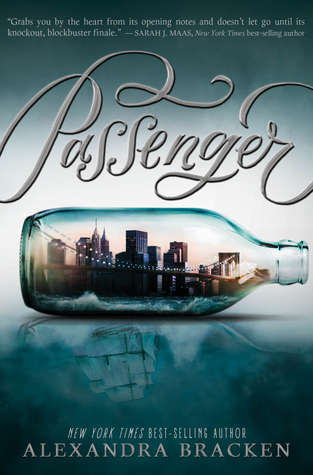 TITLE: Passenger
First in a new series
AUTHOR: Alexandra Bracken
PUBLISHED: January 5th, 2016
CATEGORY: YA
GENRE: Fantasy/Time Travel
PREMISE: Etta gets thrown into a world she doesn't know when she accidentally time travels on board a ship where she meets Nicholas.
MY REVIEW: This was not a bad way to start off the 2016 batch of books. As I've come to expect from Alexandra Bracken, this was creative. I loved the use of time travel here (even if as always...the travel method didn't make much sense). Bracken uses it effectively. We get treated to multiple time periods and it's all described beautifully.
Now romance wise...it's bland as usual. That part I could have done without. I also wish there was more time spent on character development. This book was so fast-paced that there was little time to get to know the characters well. I got a vague idea, but not the whole picture if that makes sense. But it's only the first book. Perhaps more development will come later.
This is perhaps a bit trope-filled. There was stuff in it that I've come to expect. But it was still very entertaining. The last fifty or so pages are where all the really good stuff happens and that is what is likely going to have me coming back next year for the sequel.
WHO SHOULD READ: Alexandra Bracken fans, time travel fans, Mortal Instruments fans (the fast-paced plotting of it reminds me a lot of that series)
MY RATING: Four out of Five time travelers