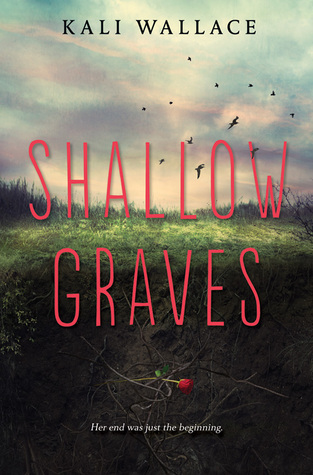 TITLE: Shallow Graves
AUTHOR: Kali Wallace
PUBLISHED: 1/26/2016
CATEGORY: YA
GENRE: Urban Fantasy
PREMISE: Breezy has an unusual gift of telling when someone has murdered someone else. She discovers there are other people with unusual gifts like hers...
MY REVIEW: This is yet another book that had stuff happen at a super fast pace. Seriously authors, are you racing or something? Fast paced plots aren't anything new, especially in YA. But the past few books I've read from 2016 I feel like we went from a light jog race to a full long distance speed run or something. I'm not saying have super slow plots, but maybe slow it down, just a little?
Because like with the other books I read recently, I spent half my time going "wait, what?" and having to go back because the details came so fast I missed some. Other then that, this was an interesting book. The writing style reminds me a lot of Nova Ren Suma's style. So it plops you right into the middle of the story and it is at times jarring. There were some beautiful sentences in it, but the writing isn't quite as polished as Suma's yet. With time though, I can see this author going places. There was some great imagination here.
As a debut, it's not bad. It's a bit rough around the edges and I suspect the way its written won't appeal to everyone. But it's interesting, I'll give it that. Honestly, when pressed I'm not sure how I feel about this book.
WHO SHOULD READ: Nova Ren Suma fans, dark paranormal book fans
MY RATING: Three and a half out of Five graves