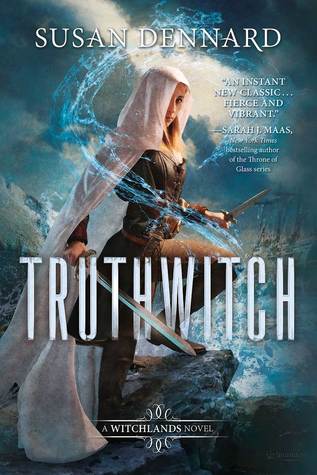 TITLE: Truthwitch
Book 1 in the Witchlands series
AUTHOR: Susan Dennard
PUBLISHED: 1/5/16
CATEGORY: YA
GENRE: Fantasy
PREMISE: Two girls get wrapped up in political intrigue in a magical land.
MY REVIEW: I was really looking forward to this one. I enjoyed Dennard's zombie trilogy quite a bit and the premise sounded awesome. Having read it...it's a decent and entertaining book, but I just kept feeling like Dennard could have done more with it.
Maybe this feeling is a bit unfair of me. But there the feeling is all the same. Like I said, it's a decent read. It's very fast paced. Things are well explained. But I just kept thinking that I know Dennard can do better then this. The world was not as well thought out as the world from Something Strange and Deadly. The characters were not as well developed either. The plot was definitely there though.
It does get the job done. If you want a fast paced fantasy action series, this absolutely fits the bill. It's just, I kept feeling like it was not as well developed a series as it could have been.
WHO SHOULD READ: Susan Dennard fans, fantasy fans, those looking for fantasy action adventure
MY RATING: Four out of Five witches