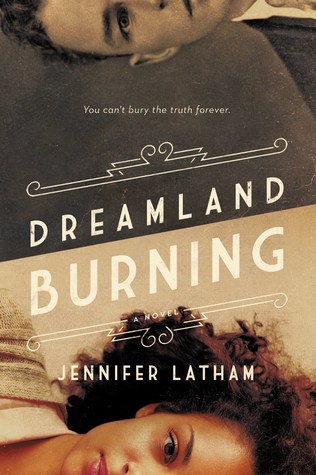 TITLE: Dreamland Burning
AUTHOR: Jennifer Latham
PUBLISHED: February 21rst
CATEGORY: YA
GENRE: Mystery/Historical Fictionish
PREMISE: A girl discovers a corpse in her back yard, and we jump between her life and the life of a man in the 1920s who has something to do with the murder of said corpse.
MY REVIEW: So some of you may recognize the name Jennifer Latham. A few years back she had a book called Scarlett Undercover that I expressed excitement for. Now, I did try to read Scarlett, but ultimately I had to DNF it. While the diversity was great the story....not so much. So I put it aside with a sad sigh. This book is entirely another story. The author not only has great diversity, she has a great mystery going on as well and even the writing has improved. I love it when authors improve like this.
There's a dual perspective going on in this, but this one actually a) is necessary (sorry, but most dual perspectives are usually not necessary), b) is done well. I can actually tell the difference between the characters. The historic research is also very evident.
In short, I loved this book. I went into it not expecting much and it managed to surprise me in a good way. I think this may wind up being a favorite of 2017.
WHO SHOULD READ: Jennifer Latham fans, historical fiction fans
MY RATING: Four out of five dual perspectives used well