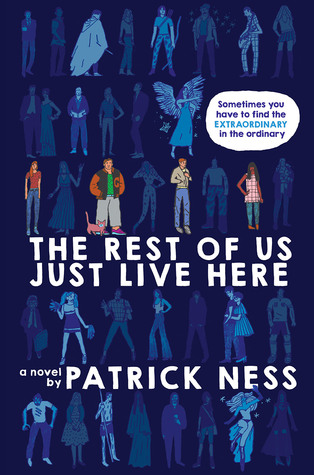 TITLE: The Rest of Us Just Live Here
AUTHOR: Patrick Ness
PUBLISHED: October 6th, 2015
CATEGORY: YA
GENRE: Urban Fantasy
PREMISE: In a universe where people have to band together to save the world daily, life can get old fast when you're just one of the normals whose destiny isn't to save the world.
MY REVIEW: This is probably going to be one of my favorite books of the year. First off, it's meta. You all know how much I love meta-type books. This one delves into how life must be for the rest of the people who live in those Chosen Ones stories and man, it's brilliant.
We actually get two connecting stories in this. In one, we have the typical YA Chosen One story. Complete with love triangles and saving the world shenanigans. Then we get Mikey and his friends. AKA the students who just happen to go to the Chosen One's school and are just trying to survive in a place where stuff like this happens daily.
I suspect this book won't be everyone's cup of tea. It's quirky. Quirky books can either work for you or they won't. This one worked for me. It also reminded me that I need to read the rest of the Chaos Walking series and Monster Calls (which apparently is being made into a movie next year).
WHO SHOULD READ: Patrick Ness fans, meta-ish type book fans, fans of the Chosen One trope
MY RATING: Four and a half out of Five normal kids just standing there minding their own business