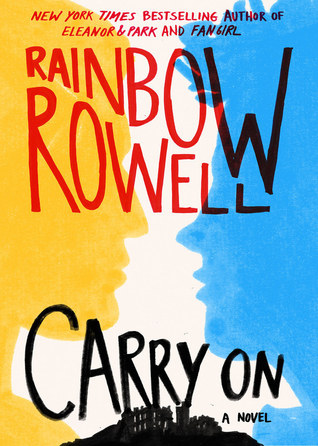 TITLE: Carry On
AUTHOR: Rainbow Rowell
CATEGORY: YA
GENRE: Fantasy
PUBLISHED: October 6th, 2015
PREMISE: In the book Fangirl, Cath was writing a long fanfic titled Carry On about Simon Snow and Bas. This is that fanfic.
MY REVIEW: Last year I discovered Rainbow Rowell and never looked back. When I first heard about this, I was a little bit skeptical, but I couldn't resist and I'm happy that I didn't, this was a blast to read.
If you read a lot of fanfiction, and I'll be the first to admit I do (and I've been known to write some ;sticks out tongue at haters;), this book will be very familiar territory for you. It definitely reads like a fanfic. But the good kind of fanfic, not the bad kind like Fifty Shades of Grey was. If you were in the Harry Potter fandom at all (again: guilty), particularly the Draco/Harry part, this will be even more familiar to you. There are many Harry Potter influences in this and since Simon Snow is basically Rowell's fictional version of Harry Potter, it works very well. The only issue I found was that like most fanfiction, it assumes you've read the books it's based on, so it sometimes felt like I was missing knowledge. But overall, I got it and enjoyed this quite a bit. I actually now kind of want to see what the Simon Snow books are like. Just, throwing that idea at you, Rowell.
If you've never read Fangirl, you can certainly read this. It basically reads like a completely separate book. It's just maybe helpful to know this book's intent before starting. But even without knowing the intent, this book is just an enjoyable read.
WHO SHOULD READ: fans of Fangirl, those in the Harry Potter fandom, anyone looking for fantasy LGBT books
MY RATING: Four out of Five wizards who aren't Harry Potter but kind of are