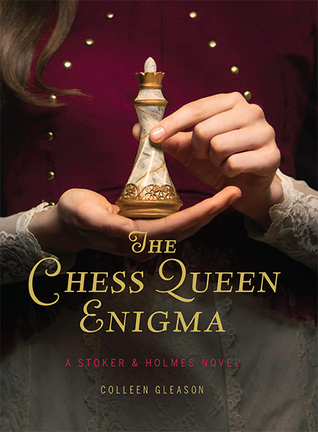 TITLE: The Chess Queen Enigma
Book 3 in the Stoker and Holmes series
AUTHOR: Colleen Gleason
PUBLISHED: October 6th, 2015
CATEGORY: YA
GENRE: Steampunk, Mystery, Classic Book Referencing
PREMISE: Evaline and Mina get stuck playing chaperone to a young socialite during the season, much to their dismay. However, chaperoning leads to a case in unexpected ways...
MY REVIEW: I really wish more people knew about the Stoker and Holmes books. They are such fun. A little ridiculous at times, yes, but it's a fun ridiculous if nothing else. This book was no exception.
This installment was great. It moved the plot forward. It brought some plotlines from way back in book one to a close. We get introduced to new plotlines. We also get a glimpse of the mysterious Mycroft Holmes, Mina's father, who I personally wanted to see more of. Perhaps next book? Even better, the author has stopped having the girls make catty remarks about each other. Yay! Progress! Made it ten times more enjoyable, let me tell you. Sure, the girls still bicker, but it was mostly free of girls hating on girls for no apparent reason other then because. It was honestly a relief.
I'm glad we're getting more Stoker and Holmes. It looks like the story is starting to take interesting turns. I can't wait to get back to these characters next time.
WHO SHOULD READ: fans of the first two books, Sherlock Holmes fans, Bram Stoker fans, steampunk fans
MY RATING: Four out of Five wooden stakes