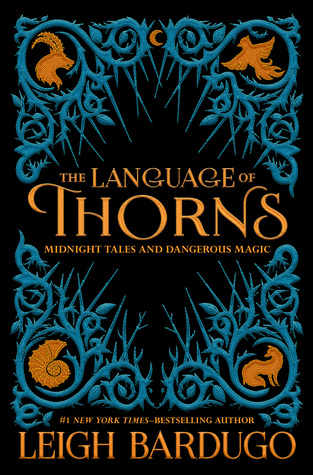 TITLE: The Language of Thorns
Part of the Grisha universe
AUTHOR: Leigh Bardugo
PUBLISHED: September 26th, 2017
CATEGORY: YA
GENRE: Fantasy
PREMISE: Leigh Bardugo tells original fairy tales that are told in the Grisha universe.
MY REVIEW: I have a very weird relationship with the Grisha universe. With the original trilogy...I admit...I enjoyed it but I also didn't really think much of it. It was just yet another fantasy trilogy. It was fine, but I didn't get super excited about it like I've seen others get over it. Now Six of Crows...that's another story. That duology I fell in love with. I think most of it was just overall improvement and much more interesting characters. Now I'm excited along with anyone else anytime a new book is mentioned.
First I want to talk about the packaging of this book, because holy crap is it beautiful. There are gorgeous illustrations throughout, the cover is gorgeous...it's just a very pretty book that will like very nice on the shelf, once I get my own copy. As for the stories themselves...I rather liked them. There were clear echoes of our fairy tales in them but Bardugo twisted them to suit the Grisha-verse and also subverted them more then a bit. The last tale that clearly is going into the back story of the evil sea witch in The Little Mermaid is my personal favorite.
If you've never read the Grisha books, you can actually read this. It doesn't involve plots from the series that much. You can just look at it as a retelling of fairy-tales and be good. For those of us who love the Grisha series, it's a great addition to the series. You won't lose anything if you don't read it at all...but these are some good fairy-tales so I recommend reading them.
WHO SHOULD READ: Grisha universe fans, dark fairy-tale fans
MY RATING: Four out of Five fabulous twisted fairy-tales