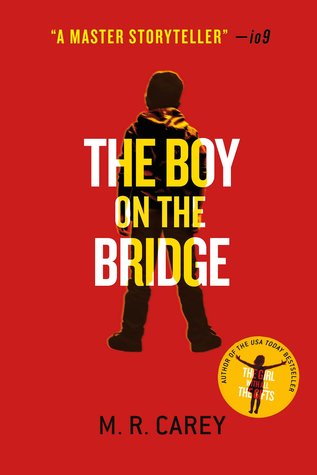 TITLE: The Boy on the Bridge
Book 2 in the Hungry Plague series
AUTHOR: M. R. Carey
CATEGORY: Adult
GENRE: Dystopian, Zombies
PREMISE: Set in the same world as The Girl With All the Gifts, this book gives us a different look at things....
MY REVIEW: Some of you may remember The Girl With All the Gifts from awhile back. It was a personal favorite of mine and surprised me because I usually find zombie things rather boring. Yes, even Walking Dead is boring to me. That show becomes less entertaining when you realize basically everyone is going to die eventually. Unless they come up with a miracle cure for zombies, that's pretty much the only way it can end.
Now this one was a bit interesting, but I sadly found it more along the lines of most zombie things: boring. At least for me. It is helped by Carey's great prose and character studies. But I was just not as invested in this one as I was with Girl With All the Gifts. I do think it was still good and a solid sequel/companion book. This is mostly just a me thing.
If you liked Girl with All the Gifts, you should like this one. As I said, me not getting into it was mostly just my thing. The book is solid. It's not you, Boy on the Bridge, it's me.
WHO SHOULD READ: fans of Girl With All the Gifts, zombie fans, Walking Dead fans
MY RATING: Three and a half out of Five solid sequels