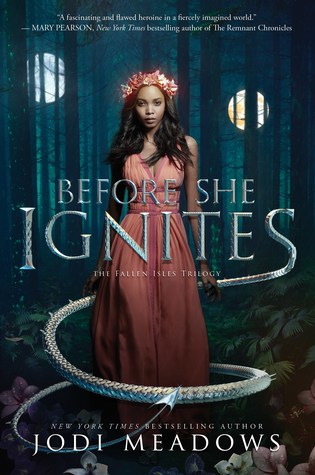 TITLE: Before She Ignites
Book 1 in the Fallen Isles Trilogy
AUTHOR: Jodi Meadows
PUBLISHED: September 2017
CATEGORY: Young Adult
GENRE: Fantasy
PREMISE: A girl discovers a dark secret about her world and is thrown in prison before she can reveal the secret...
MY REVIEW: This was a rather interesting read. It is definitely different from Meadows other reads, that's for sure. There is no love triangle. In fact, there's very little romance at all. There does seem to be the start of something with one guy, but she does not at all say the word love, nor is there any kissing. I find this so refreshing. YA authors, more of this please! Slow build romances are your friend, guys.
World building wise....it's okay. Most of the book is spent in the prison, so you don't see all of the world. For those worried about the white author writing a black character aspect...the character's race is pretty much a non-issue. The author points out when characters are not white...but she does not once use race as a plot issue. She's more interested in country divides and dragons. Which is probably just as well.
The way this was written was the most interesting aspect of it for me. She does a bit of a LOST thing where it switches between past and present and it's pretty effective for building suspense. For the most part, I liked this book. It was a bit slow, especially in the middle, but the ending was a good pay-off and makes me look forward to the next one. I say it was a job well done.
WHO SHOULD READ: Jodi Meadows fans, fantasy fans, dragon fans
MY RATING: Four out of Five dragons